Japan Wi-Fi increasingly popular
Japan Wi-Fi rental has been becoming very popular over the last 5 years. Foreign tourists often complain about the lack of free internet access, with free hotspots often not extending beyond airports, major train stations and hotels.
While there have been efforts to improve connectivity for foreign visitors – and several apps as well as programs from Mount Fuji up to Hokkaido, making it easier to access Wi-Fi for free or a small fee with one simple log-in – what about when you aren't near any of these hotspots?
1
The personal hotspot solution & availability
Personal hotspots are the ideal solution for many people and it is easy to rent Wi-Fi devices nowadays. Without any planning, you can arrive in a major international airport in Japan; Narita, Haneda, Kansai International and Chubu (Nagoya) among others, and find rental phones, rental SIMS and rental WI-Fi readily available.
Rental Wi-Fi can be obtained through a range of companies' websites, too. Global Advanced, PuPuRu, Exseli, Rentafone, E connect, etc are all competing for customers and the closed (expensive) Japanese telecommunications market is slowly making way for more cost competitive players. Wi-Fi rental is a case where this is especially true.
2
Japan Wi-Fi rental delivered while you nap
You don't even need to stand in line at the airport phone rental booth. You could just as easily make a booking online and have the pocket Wi-Fi rental device delivered, often free of charge, to your hotel. That gives you extra time to recover from jet lag rather than worrying about internet connectivity. Of course, while you are in your hotel you'll most likely have free access to Wi-Fi anyway, which means you'll only be offline during the taxi ride from the airport to your hotel.
3
Japan Wi-Fi benefits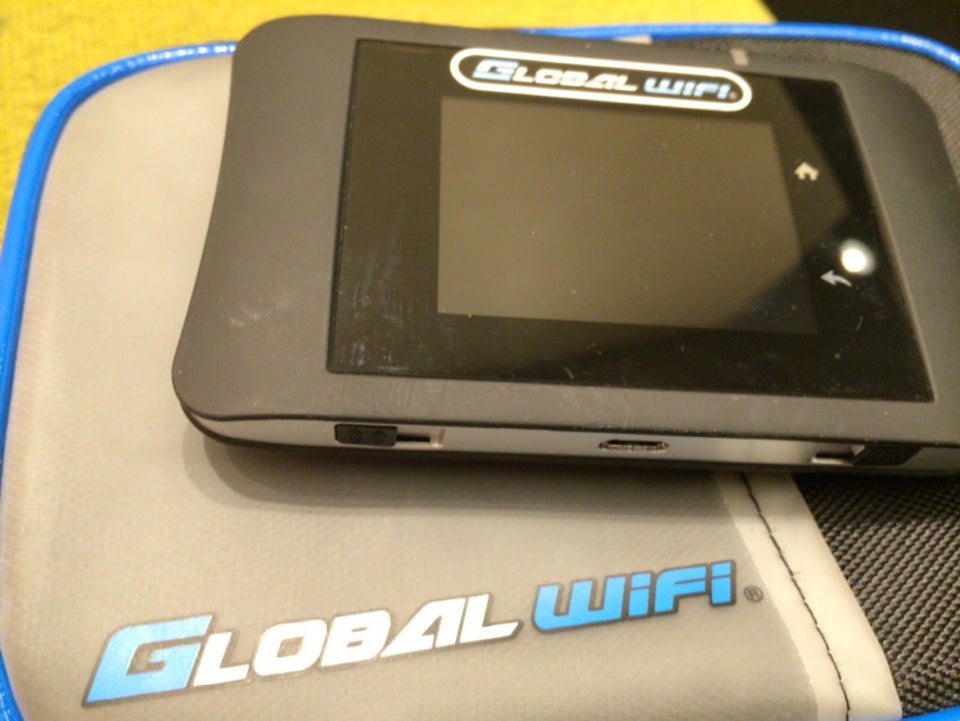 グローバルWiFi 中部国際空港店, Foursquare.com
Pocket hotspot Wi-Fi devices range from several hundred to a couple of thousand yen for daily rental. When renting for longer than a week, it can be as little as a few hundred yen per day. Therefore you can easily see how Wi-Fi rental in Japan works out cheaper than traditional methods arranged through your domestic carrier.
Japan is obviously a country with high technology and you can expect to receive a lightweight piece of kit that easily fits in your pocket or handbag, while performing with speeds approaching 200Mbps. Add to this that you can connect 5 devices at one time, or more with certain models, and you really have a very convenient solution.
4
Wi-Fi rental vs SIM card rental
Whether you decide to rent a pocket hotspot Wi-Fi device or a SIM card depends on what devices you have and who you are travelling with.
Wi-Fi pocket hotspots allow multiple users, and multiple devices to be connected simultaneously. Provided your gadget is Wi-Fi enabled, you should have no problem connecting to your personal hotspot rental. For groups, this can work out cheaper than having SIM cards for each group member's phone. Wi-Fi portable hotspots are also more powerful and enjoy better connectivity than SIM cards in many situations, as well as higher transfer speeds.
Renting SIM cards is a better option if your group will split up and need internet access independently. The personal hotspot requires each group member to stay within range if they wish to be connected. SIMs allow the individuals to wander further and still be able to connect wherever there is network coverage, which is almost everywhere, including a large percentage of the mountains in Japan. A key advantage of the SIM rental is that it doesn't require charging – a downside of the Wi-Fi hotspot rental. The portable Wi-Fi devices only have around 8-12 hours of battery life on average, although you can also rent a second battery to double that lifetime.
5
Wi-Fi rental comes out on top
The extra benefit of the Wi-Fi device rental, is that these normally have an unlimited data plan. Many SIM cards have additional charges for excessive usage, or increasingly common, offer slower service once you've reached your data limit for the period. Wi-Fi rental frees you from these limits and allows you to focus on your travel rather than your connectivity or data plan. The Wi-Fi allows versatility, since you can connect tablets and laptops (and plenty of other wireless gadgets) in addition to your cell phones.