Namba, the next biggest town in Osaka where tourists have begun to swarm in the recent years. Not only is this place less crowded than Umeda, but it also has a whole variety of cuisines from different parts of the world and their budget ranges from as low as 300yen and up to as much as 3000yen per meal! Below will be the introductions of some tiny hidden gems within Namba itself.
1
Juicy "Cowboy" Hamburgs! |Cowboy Nipponbashi Store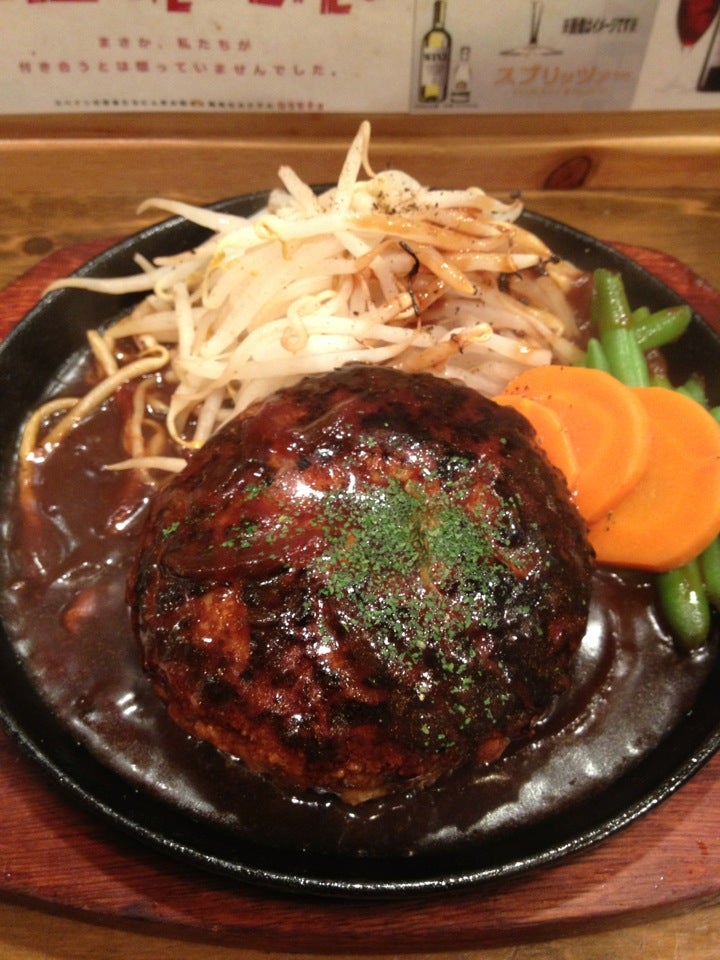 かうぼーい ハンバーグ専門店, Foursquare.com
It is said that fukubukuro started as a way for retailers to do away with surplus or unwanted inventory at the end of the year, in accordance with the Japanese superstition that it is unlucky to start a new year while burdened with the goods or troubles of the old year. For this reason, many retailers during the Edo period (1603-1876) would actually hold extensive beginning-of-the-year sales for their customers called hatsu-uri, or "the first sale", where previous inventory would be sold at discounted prices.
Although the well-known Mitsukoshi department store is often credited with coining the term "fukubukuro" during the Meiji period, the word actually first appeared in a newspaper ad in November 1902 for a small shop in Tokyo that sold kimono fabric. The advertisement mentioned that they would be selling "odd scraps of cloth, a clearance sale on all fabrics, and fukubukuro", with no explanation as to what that meant. However, the term quickly gained popularity, and it continued to appear in year-end advertisements in following years, usually for clothing shops or shrines. Some shrines would advertise good luck charms and fortunes for a certain price, or "lucky bags" possibly containing both for a lower price. Big-name department stores like Mistukoshi and Matsuya started selling fukubukuro in the late 1910s, but the real fukubukuro craze didn't hit until the late-70s and early-80s, when it's said that the word fukubukuro could be seen everywhere at the end of the year.
During Japan's so-called "bubble period" when the Japanese economy was booming, there were even said to be lucky bags sold at outrageous prices that contained rare and luxurious goods, such as diamonds, plane tickets, and rare art pieces. There was one fukubukuro during this picture that sold for 500 million yen and contained a rare Picasso painting.
Located in a little narrow street, 3 minutes walk from the Namba Nankai Station. It is a chain store called "Cowboy" which normally specializes in beef steaks. However, this particular store specializes in what Japanese would call "hamburgs". To those who are not familiar, it is something similar to the patty of a burger, just that it is served as though it is a steak. At Cowboy, you are given the honor of picking the size of your patty based on its weight and on top of that, they make the hamburg on the spot from molding it into a patty while the meat is still raw and fresh, to grilling it on the griddle! It is then served to you sizzling on a hot plate, topped with your desired sauce. Quickly grab your spoon and slice a bit off. Notice how tender the meat is and of course, savor the moment as the juice flows out accompanied by its delicious aroma!
Budget :
Lunch set : 800yen ~ (includes rice and soup)
Dinner set : 800yen ~ (does not include soup)
* Price range depends on the weight of the patty and if there are any additional toppings.
Address : 7-15 Nanbasennichimae, Chuo Ward, Osaka, Osaka Prefecture 542-0075, Japan
Phone: +81 6-6647-2990
Opening hours : 11:00 ~ 23:00
Closed days : None
2
Italian Tsukemen by a Turtle King?!| Kyushu Ramen - Kiou Namba Front of NGK Store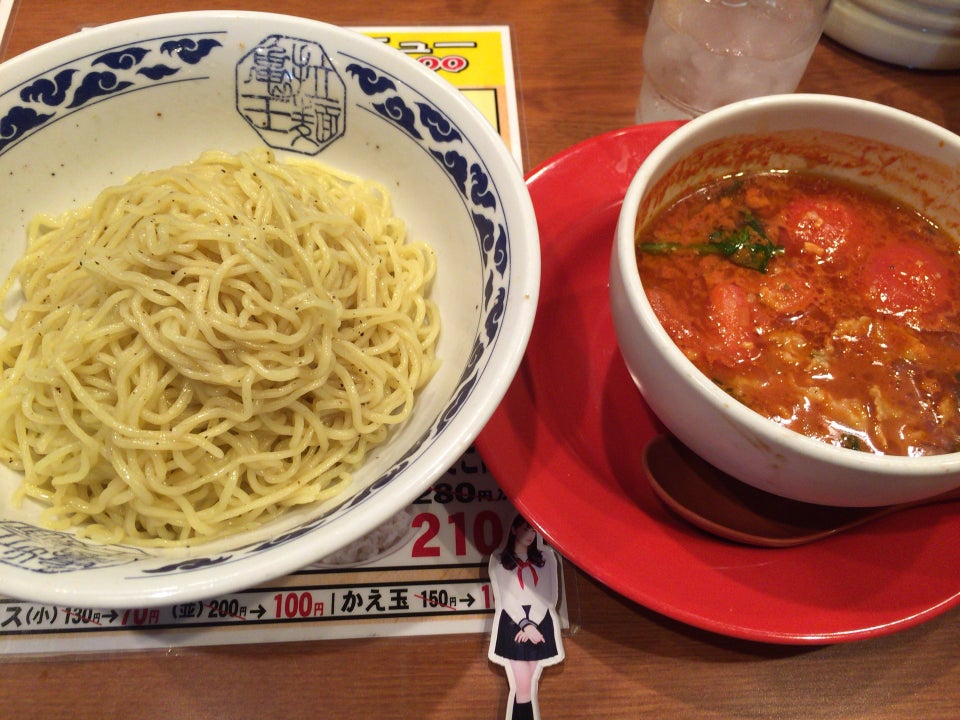 九州らーめん 亀王 難波NGK前店, Foursquare.com
Have you ever tried a Tomato flavored ramen? This is the place for you! For a more thick tomato broth, the Tomato Tsukemen is highly recommended. On top of that, for those that has a bigger stomach, you may even choose the amount of noodles you desire! Just a brief explanation, "Tsukemen" basically means "dip noodles", meaning that the noodles and the broth will be served separately and you will be expected to dip the noodles into the broth before slurping it all up! If you are a cheese lover, cheese may be added to enhance its flavor. Now, remember to slurp as it is a custom in Japan to indicate to the chef on how delicious his meal is, that is if you agree that it is delicious too of course!
Budget : 600yen ~
Address: 10-13 Nanbasennichimae, Chuo Ward, Osaka, Osaka Prefecture 542-0075, Japan
Phone: +81 6-4397-6545
Opening hours : 11:00 ~ 24:00
Closed days : None
3
Tanuki Okonomiyaki |Ponpoco Tei Namba Store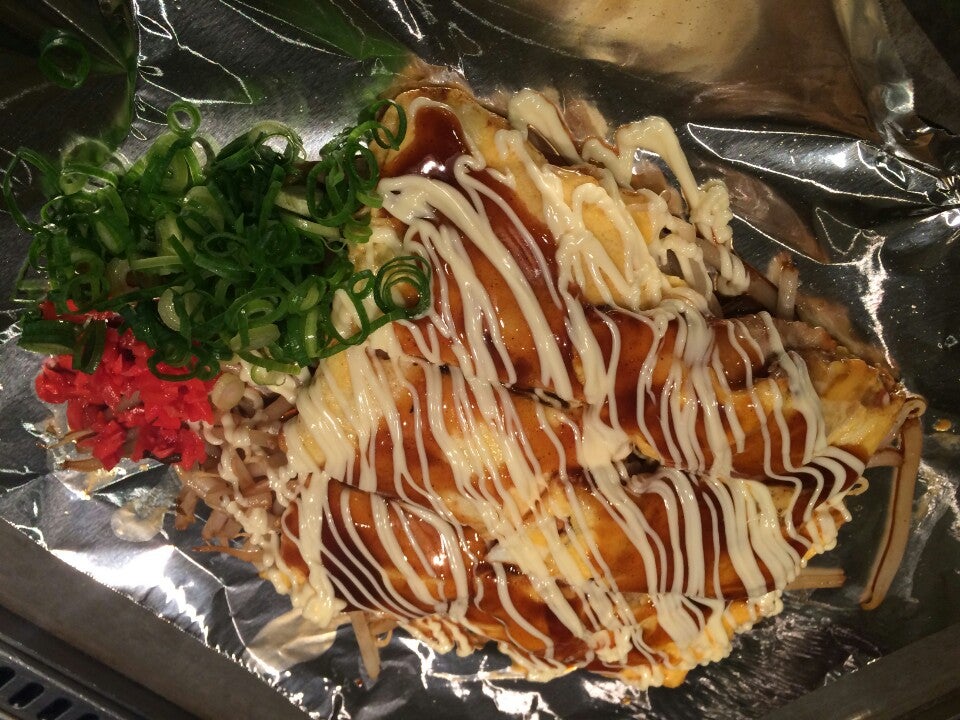 狸狸亭 なんば店, Foursquare.com
Since you're in the land of Okonomiyaki, you have to at least have a taste of Okonimayaki! What is Okonomiyaki you may ask, it is something like a Japanese version of a pancake or a pizza. The most normal menu would be the pork slices. This little tiny restaurant is decorated in such a way where it feels like you are just in a little cozy traditional Japanese home! It is located near to a Japanese language school called Arc Academy, so do not be surprised if you see a number of foreigners hanging around there. Apart from the good taste, it is also a very non commercialized restaurant, so you would not have to worry about too much noise or long lines. If Okonomiyaki doesn't suit your taste, then the Yakisoba (Japanese fried noodles) is highly recommended as well.
Budget : 900yen ~
Address : 1-2-17 Nipponbashinishi, Naniwa Ward, Osaka, Osaka Prefecture 556-0004, Japan
Phone: +81 6-6633-2139
Opening hours :
[Tuesdays ~ Saturdays]
Lunch : 11:30 ~ 15:00 (L.O. 14:30)
Dinner : 17:30 ~ 23:00 (L.O. 22:30)
Sunday & Public Holidays : 11:30 ~ 23:00 (L.O. 22:30)
Closed day(s) : Monday
Do take note that the restaurants listed above are very small so be prepared to wait or eat separately if you are part of a big group of more than 6 people. Ready your empty tummies and and your wallets as you're up for a feast!